Kite Beach Dubai is the ultimate place for all the kite surfers to gather at the seashore and indulge in a plethora of fun and relaxation. Moreover, Kite Beach is also called the Wollongong Beach as it was named after the Wollongong Campus. This particular beach occupies a land strip between the Jumeirah Beach Park and the Dubai offshore sailing club and was known to be one of Dubai's primary beaches. Consider yourself lucky if you have your own means of conveyance as the beach is located on the other side of the road and one must have to walk across the Al Manara road junction to get there.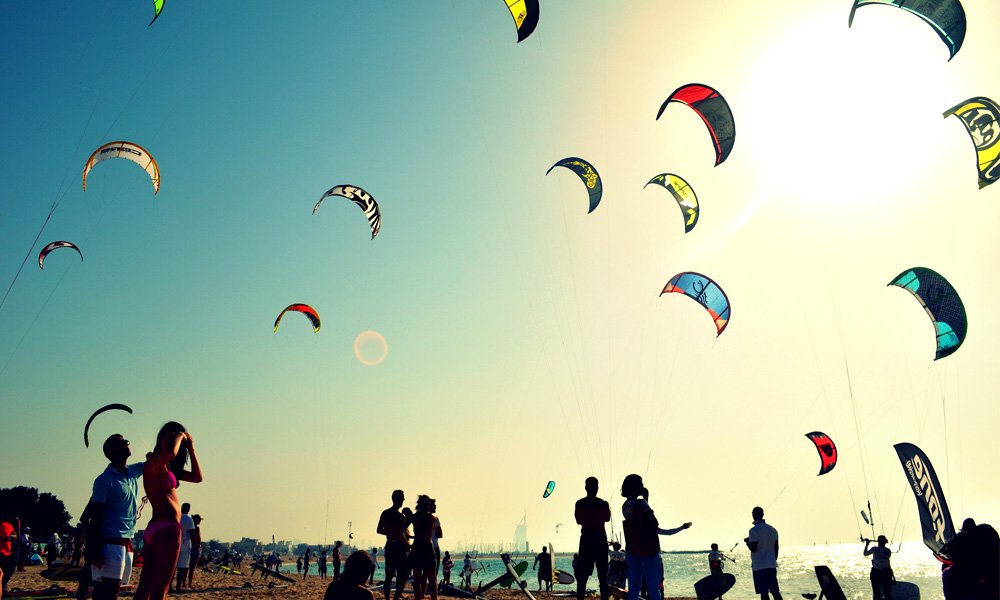 The Ultimate Spot for Kite-Surfing
The kite beach Dubai has gained a reputation of being one of the quietest and less commercialized beach of Dubai, with limited facilities for people to enjoy. But you must also understand that there is something going on at Kite Beach all round the year. The beach is very famous amongst singles and families who are fond of outdoor and water activities.
This popular hotspot brings kite surfers together for a bit of kite surfing, and you can even enjoy sports activities like beach tennis, banana-boats, deep sea fishing, kayaking, beach volleyball and football. Also, you don't necessarily have to be a kite-surfer to become a part of Kite Beach Dubai.
Kite Beach Facilities
The beach has a valet parking, as well as toilets, showers and changing rooms in case one wants to take a dive into the sea. Along with that there is an individual skate park as well as a climbing park within the premises of the beach. Several bars and restaurants are located across and within the beach, offering a wide array of international cuisines and refreshing beverages to cool off the summer heat.
Kite Beach Skate Park
The skate park is located within the premises of Kite Beach Dubai and was initiated by skaters for beginner and professional skaters. This 3100 square mile dynamic skate park is built on the beachfront at Kite Beach, and is recognized as the biggest multi-faceted amenity of UAE. The park took form after thorough consultations with the experts in the activity of skating. This skate park provides opportunities for all visitors and participants and is the central hub for social opportunities and competitions.
For the learners there is a lower profile skate arcade with distinctive street elements and changing flow areas containing blocks, quarter pipes and banks which are seamlessly connected for continuous runs. For the professionals there is a central space which has hurdles like steps, ledges, banks, rails, vert wall and pole jams, and is mainly used for organizing large-scale events.
Places to Eat
At Kite Beach, visitors are bound to find pretty much of everything from iced coffee at the Blue Beach café to fresh oven-baked pizza at Amor Dubai to frozen yogurts at Surf Shack, and of course the most favorite of them all, Wanna Banana! The ice-creams at Wanna Banana are made out of 100% pure frozen bananas and you can add additional topics like honey, cinnamon or peanut butter to enrich the taste a bit more.
While you are in Dubai you can shamelessly think and have all things that are either imported, sugar-coated or deep-fried. The Kite Beach hosts the first ever branch of Beaver Tails which offers a sweet and sugary Canadian pastry that is fried like a donuts and is shaped like a flatbread. Top it up with Nutella or marshmallows, bananas or fig jams; it is entirely your call. You are bound to enjoy this sticky, sugary and messy treat at the beach.
DuKite Kite Surfing School
This particular kite surfing school is situated at Kite Beach Dubai and is committed in offering premium quality, safe and custom-made surfing lessons and classes and makes sure that everyone who is fond of learning can have the ultimate kite-surfing experience. DuKite Kite Surfing School has been in the industry ever since the year of 2005 and has IKO certified trainers who issue certificate cards only once the course is completed. This is probably the reason why the institute proudly announces itself a one of Dubai's best kite-surfing school.
DuKite Kite Surfing School also offers Stand-Up Paddling classes, which is a popularly growing water-based sporting activity. This water sport positively affects your physical, mental and emotional well-being. Stand-Up Paddle Boarding is much simpler than surfing, and easier to learn. The school offers stand-up paddle classes and tours that are designed for learners and professionals. During the tour you will experience sights of turtles, dolphins, manta rays, and many other interesting sea creatures.
Reasons why you will love Kite Beach
The Kite Beach has recently been renovated and is up for some serious entertainment, so hit the beach, get your summer tan on and play with the splashing waters.
1. The newly-made cycling and jogging track
This is particularly of interest to all the fitness freaks who will be delighted to see the new cycling and jogging track. There are several gym machines that can be availed by the public, and lots of beach boot camps. There is nothing better than soaking up the morning with an early morning jogging session, followed by a dive into the sea.
2. Lots of food and beverage vents
Gone are the days when you have to make your own picnic basket and carry it to the beach. The newly-developed Kite Beach Dubai now offers an extensive array of gastronomic delights and lots of food and beverage outlets that are located nearby. A few personal favorites are SALT, Doner and Gyros, and Jamba Juice which is the perfect option for a sweet and healthy treat.
3. The craziest water-based sporting activities
If you are the adventurous sort then you would want to much more on the beach than bathe in the sun and watch people going by. Kite beach is the perfect spot that summons all the adrenaline-junkies to enjoy a range of sports like stand-up paddle boarding to kite surfing to beach volleyball to windsurfing to skating.
4. Stress-free parking
Kite Beach has its very own valet parking, which reduces the stress of finding a decent parking spot in the busy city of Dubai. The RTA's paid parking is available at a cost of AED 2/per hour and is free on Fridays and Saturdays. The private parking is available at a cost of AED 50/all day.
With so many things to do, places to eat and people to enjoy with, you have almost every reason to come to Kite Beach Dubai and see what it has to offer.