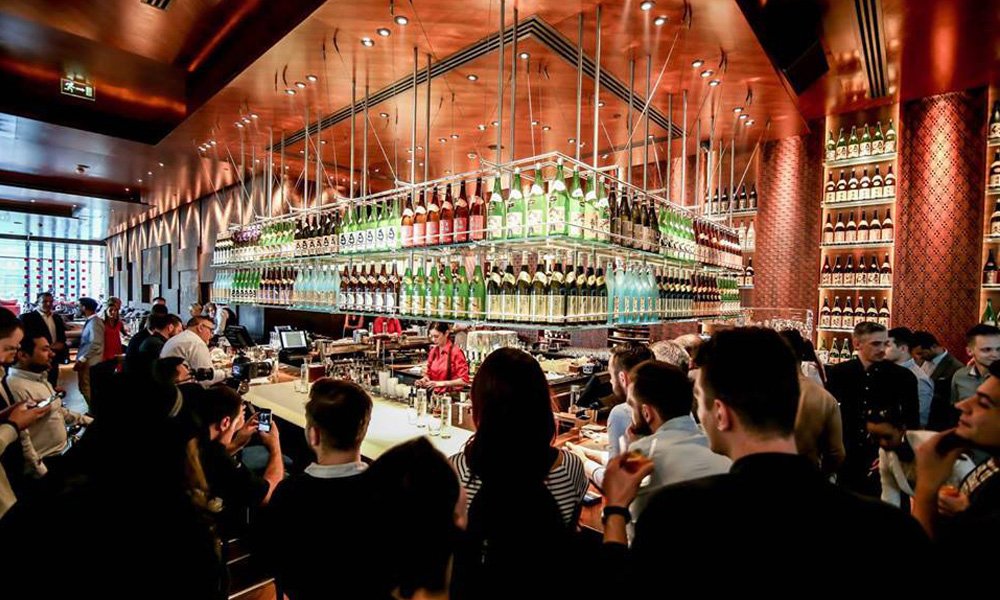 Dubai comprises of some of the coolest, greatest and funkiest bars and lounges of all times, and nothing can beat the chilling one can have there. Dubai has a great deal of outstanding bars and they are all doing really well. People can find bars of all sorts, be it relaxing Irish pubs to chilling mocktail bars. The expatriates and residents of Dubai do a great job in keeping these Dubai bars busy during the late hours of the night, and sometimes one might need to book a table even for a sudden outing.
Best Bars in Dubai
Positive vibes, silent tunes, flavored Shisha, mojitos to sip on; these are the things that good nights in Dubai are made of. Heading to your nearest Dubai bar is probably the best way to step out of your comfort zone, and with so many options it gets difficult to choose which one to go to. Nevertheless, below is a featured list of the best bars in Dubai that offer maximum night fun and entertainment.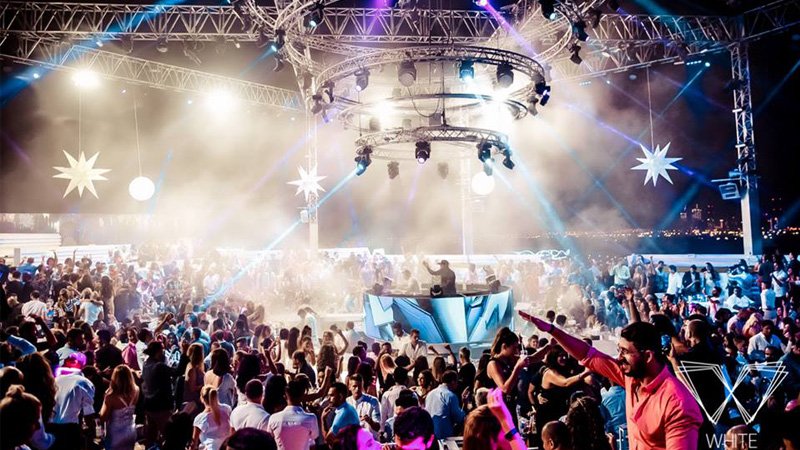 1. White Dubai
This particular club has been crowned as the "Club of the Year" and has maintained its position since then. White Dubai is a high class club which is mainly famous for its intricate and unique entertainment programs, ranging from rappers to top-ranking pop stars to superstar deejays. The bar is encompassed with dancers and singers who perform whole-heartedly and provide a great entertainment. Plus, the audience and fans can get up close and personal with the celebrities. And as the light show beautifies every corner of the club, the power-packed sound system lets youngsters and adults sway to the dancing beats that switch from urban to EDM.
Address: Meydan Racecourse Grandstand Rooftop, Nad Al Sheba 1 – Dubai – United Arab Emirates
Phone: +971 50 443 0933
Read more
2. The Irish Village
This pub might appear fake in the beginning, but if you want to get the feel of a truly authentic bar, then the Irish Village is the place to be. The Irish Village is extremely renowned amongst the emigrants of Dubai, because it lets them experience a typical native expatriate scene. The place hosts a lawn which is perfect when the weather is good, and allows people to enjoy a nice band performance while sipping a beer in the garden. The nights in Dubai are steamy and this is the best time to lounge in the air-conditioned room. Beer prices are reasonable and overall the pub has good vibes.
Related Article: Top 5 Irish Bars in Dubai
Address: 31 A Street, Al Garhoud,next to Dubai Tennis Stadium – Dubai – United Arab Emirates
Phone: +971 4 282 4752
Read more
3. The Roof Top
The Roof Top bar is as popular with the tourists as it is with the expatriates, and why wouldn't it be? It has the most spectacular open-air location which acts as a perfect outing spot on breezy days and striking décor which is given the theme of a Moroccan-cum-Arabian-Nights. Their refreshing cocktails and mojitos consist of high-quality spirits and the cozy oriental sound surrounding system completes the bar wholly. Bands such as Dahab perform at nights and provide a good jamming session, which is thoroughly enjoyed by the audience.
4. Cielo Sky Lounge
If you want to experience a 360 degree view of Dubai then Cielo Sky Lounge is the place to go. With its terrific alfresco location, the bar offers mesmerizing views of Dubai sunset and the busy city life which lightens at night. The Cielo Sky Lounge is appealing for hipsters and fashionable youngsters as the décor consists of vibrant hues of whites and blues. The Cielo Sky Lounge has a hip and chic Ibiza-like feel and its interior décor is in vibrant hues of whites and blues which appeals mainly to hipsters and fashionable youngsters.
Some of the best DJ's perform here through the night. Altogether, those firm white settees with hints of blue, the breathtaking sights of the skyline and water and sail-like shelters make Cielo Sky Lounge one of the top-rated bars of Dubai.
Address: The Dubai Creek Golf & Yacht Club, next to the Park Hyatt – Dubai – United Arab Emirates
Phone: +971 4 416 1800
Read more
5. Lock, Stock & Barrel
Named after the famous movie, this relatively new bar has gained a reputation for itself in a short span of time because of its specialty programs scheduled on a daily basis, for instance; on Mondays the club has its acoustic sessions, Tuesday nights are for the ladies, enjoy a nice brunch on Friday, and special live screenings of sports are done on Saturdays, followed by a rocking live band performance in the late hours of the night. The Lock, Stock & Barrel Bar is only about entertaining its guests to a whole new level.
The best thing about it is that tables are given on first-come-first-serve basis, so there are no cover charges. People who come here can enjoy a relaxed door policy and chill through the night. This place lets you get your hair down, sip a drink and groove your heart out. This particular bar is also becoming one of the best bars in Dubai.
Address: 8th Floor,Grand Millennium Hotel Dubai, Tecom – Dubai – United Arab Emirates
Phone: +971 4 514 9195
Read more
6. Bahri Bar
The Bahri Bar is a rather colonial styled bar and its large wooden porch overlooks the artificial watercourses, Burj Al Arab and the breathtaking views of the beach that lies beyond. This bar is a local's favourite, and a venue which most expatriates like to tag along with their friends and families on holidays. Bahri Bar is a wonderful place to take in the awe-inspiring sunset, and as night takes over the beautifully lit Burj Al Arab is worth admiring. A visit to Bahri Bar is a must as it is one of the best bars in Dubai, and can be visited anytime between 4:00 pm to 2:00 am, daily.
7. Above
Yet another spectacular bar named Above offers striking views of the tallest building in the world, Burj Khalifa. Above is a destination which offers premium services and this hotspot is a good place to have fun during the day and night hours. It incorporates a space of 11,800 feet along with a foldable roof. This particular venue lets visitors unwind themselves and derive the pleasures of Dubai. The rooftop is nice when the weather is warm.
There are many air-conditioners which are lined and carefully positioned in every corner. Also, the seating area and private verandah are encompassed with swaying palm trees, separate cabanas and a beautiful pool reflection, adding beauty to this Dubai bar.
Address: 8th Floor, Sheikh Zayed Road Downtown – Dubai – United Arab Emirates
Phone: +971 4 503 6666
Read more about Above
8. Club 360
There are a handful of spots in the city that are good enough to compete with the well-known Club 360. It is positioned on an alfresco top below a dock which juts out at least 1km in the Arabian Gulf. This one-of-a-kind circular bar lets people admire the beautiful stretches of water alongside the Burj Al Arab and is a favourite amongst some of Dubai's most elite class parties. Club 360 hosts a lot of international artists and DJs, so the nights are usually packed with people who are up for a chilling session that goes on till the peak hours of dawn. To enjoy your night in Dubai, make sure to visit Club 360, one of the best bars in Dubai.

9. Zuma
Those who want to try some authentic Japanese dishes and experience the Japanese environment must definitely pay a visit to Zuma. The food and service here is amazing and have an impeccable taste that are worth trying. The place rests in the heart of DIFC (Dubai International Financial Center) and is best for an after-work drinks sessions to get rid of the exhaustion. For a nice chit-chat session, Zuma can be a good option and hangout spot with colleagues and friends. Thursdays are a bit crowded, therefore a visit on other days of the week is advisable for this amazing bar in Dubai.
Related Article: Best Japanese Restaurants in Dubai
Address: Gate Village 06, Podium Level, Al Sa'ada Street, DIFC – Dubai – United Arab Emirates
Phone: +971 4 425 5660
Read more about Zuma Bar
10. Koubba Bar
Absorb the sunset at the luxurious verandah of Koubba Bar at Madinat Jumeirah in Dubai. This place lets you sink in completely in the cozy couches beneath the dim lights of the Arabesque lanterns, making it a wonderful way to end the day. The surroundings of Koubba bar are so beautiful that you would wish to stay there for hours, and enjoy their refreshing cocktails that totally complement the time spent. During later hours the bar hosts musical shows, performing every day from Monday till Saturday. The perfect time to visit it is 5:00pm onwards to enjoy the splendid view.
The list of bars and pubs in Dubai is endless as there are plenty of popular and the best bars in Dubai. The city of Dubai offers an amazing nightlife and is full of entertainment. Each bar has a theme of its own, so there is no particular ranking as to which is the best bar of all time. So simply dress up, pick up on any of these party spots and have the time of your life.
Related Articles: